Director: Courtney Hunt, 2008.
Frozen River
is the low-budget debut for writer-director Hunt and garnered the Grand Jury prize at the Sundance Festival. A slow drama, it has tension and several moral dilemmas that keep the audience's attention. While focusing attention on the issue of human trafficking, it shoots a spotlight on the survival of single mothers living below the poverty lines in lower class America.
The movie is set in upstate New York, just below Quebec. Ray Eddy (Melissa Leo) is waiting to buy a new double-wide manufactured home but her husband has split with the cash to gamble it away. Ray is left with her two kids, and it is a week before Christmas. Without the money she will lose her deposit on the new home. Having no other money, this family has to survive on popcorn and Tang for meals until the next paycheck comes in. This is barely baseline living.
When she sees Lila (Misty Upham) driving her husband's car away from a bingo hall, Ray follows her to the Mohawk reservation and the trailer that Lila lives in. This ugly introduction brings Ray into the world of immigrant smuggling, Lila's way of earning fast money.
At first Ray is a woman of principles, but circumstances conspire against her. A tough woman, she is trying to protect her kids, requiring them to be in school even though TJ (Charlie McDermott), the 15 year-old, could be earning money to put food on the table. Blamed by TJ for her husband's problems, she is bitter but not ready to give up on him or life. But with debts mounting, food missing, and the double-wide about to disappear, the lure of some quick untaxable cash causes her to compromise her principles.
As she and Lila drive over the frozen river separating Canada from the Mohawk reservation and America, their "partnership" is tense and untrusting. Ray's value to Lila is her car which has a large trunk with a manual release allowing several people to hide there. Lila's value to Ray are her connections.
As she descends into this other world, Ray sees people who are worse off than herself. There are Asians and Pakistanis who are paying heavily for the chance to be smuggled into America and their dream of a new life. But even that dream is sullied by the fact that most will have to serve in sweatshops as little more than slaves to payback the smugglers the $50,000 or more they are being charged. What price freedom?
What makes this film interesting is the interplay between Ray and Lila. Melissa Leo has a first-rate performance as a mother at the end of her rope whose eyes are opened to others' suffering. And as she learns to see beyond stereotype, she comes to see the cost and consequences of crime.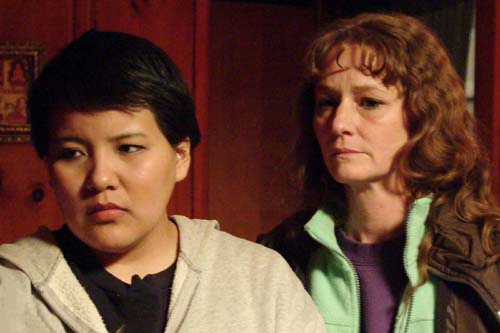 Lila and Ray have more in common than Ray first thinks. Both have lost a husband. Lila has lost hers literally, having drowned in the river they are now driving over. Whereas Ray has lost hers to a gambling addiction; he may be drowned in debt and never come back. Lila has lost a child, an only child, having had her boy taken from her by her mother-in-law. Apparently the Tribal Police on the reservation are not concerned about this kind of thing. Ray is losing her children emotionally, especially TJ as he begins to move into a life of petty crime for petty cash; like mother like son.
Frozen River
, based around the issue of illegal immigration, shares a common theme with
The Visitor
, another low-budget movie. But the immigrants in
The Visitor
were not smuggled in, nor were they destined for slavery. Indeed,
The Visitor
was a lighter film but it turned political, with a clear agenda, in its second act.
Frozen River
, in contrast, is more holistic, keeping its message less devoid of overt sermonizing. In both films the main actor gives an Oscar-nominated performance.
When State Trooper Finnerty (Michael O'Keefe) comes to the store where Ray works, after she has made her first smuggling trip, her guilt is evident in her demeanor. But he is not here to arrest her. He is here to buy Christmas junk. Her lack of eye contact, her fearful shuffling around until he goes, should be enough to convince her that a run-in with the law is not what she wants. But Lila has told her that the State Troopers have no jurisdiction on the reservation and so the consequences are minimal -- a fine or a nominal jail-term.
Later Trooper Finnerty comes to her home to ask her some questions about Lila and to subtly warn her. Things are coming closer to home. But Ray's need for gifts and the double-wide are even more desperate, and she continues in this path of crime. Ray needs one more run just like an addict's one more fix.
When the finale approaches, things go badly wrong. The final pick-up is mishandled. They run into serious problems, and they are forced to foot it over the river. When they arrive at Lila's Mohawk reservation they face a legal dilemma, and Trooper Finnerty, and someone has to pay the price.
Although
Frozen River
has no happy ending, there is hope and there is redemption. Ray has come to realize that she is blessed with two healthy children, even if her husband has left her for good. And even if the dream of a brand new double-wide dissipates, she still has a home. Lila has come to realize she is empowered to move into her little boy's life. And the debacle of the smuggling has brought two mothers together in a relational bond that perhaps nothing apart from suffering could do. Suffering has a way of cutting through the dross to show the silver and gold lying below.
Frozen River
is no typical movie. It shows clearly the consequences of poor choices. Sin catches up with the sinner. In life this often happens. We may want to solve our problems with a quick fix, but there are usually no quick fixes. What seems too good to be true is often so. There is usually no substitute for living correctly, even if it means we don't get what we want. God loves us and wants us to develop our characters more than our comforts. We have ample warning in the Bible against sinning. We should heed such warning.
Copyright ©2009, Martin Baggs