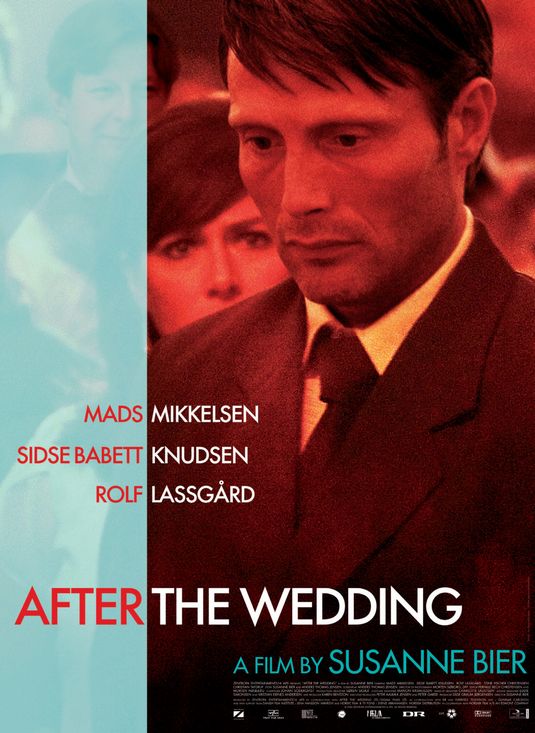 Director: Susanne Bier, 2006 (R)
Jacob Pederson (Mad Mikkelsen,
Adam's Apple
) is living an altruistic life in Bombay, India, helping to run an orphanage and school, enjoying the vibrant colors and bustle of a swarming city, even if most are poor. In reality, he is hiding from his past. But his past catches up with him.
The first act shows us Jacob's life, and especially his relationship with a 7 year-old orphan. Jacob spends all day serving others and has little time for self-reflection on his own life. But the orphanage is close to bankruptcy. When a wealthy Danish philanthropist makes an offer of funding, it seems too good to be true. But there is a catch: Jacob must return to his home-town of Copenhagen to discuss the offer and sign the contract in person. Leaving, he promises the young boy he will return within a week to be at his 8th birthday celebration.
The second and third acts play out in Denmark. Director Bier juxtaposes the pulsating effervescence of Bombay with its hundreds of hues with the cool and almost monochromatic Danish cityscape. Even the upscale hotel room Jacob is given is subdued in its Scandinavian furnishings. This is a different world. It is a world of hidden emotion and business dealings. Jacob seems uncomfortable in both.
When Jacob finally meets the self-made tycoon Jorgen Hannson (Rolf Lassgard), Jorgen seems uninterested, even bored. His mind is on the upcoming wedding of his daughter Anna. He decides to leave the discussions until the after the wedding, and tenders an invitation to Jacob to attend the wedding. Trying to refuse, he really cannot without offending his host and risking losing the charitable donation. But when he meets Jorgen's wife Helene, Jacob's past catches up with the present.
We all have some skeletons in our closets, secrets we wish to remain hidden, sins we are ashamed of. Even if we have confessed them and received forgiveness (1 Jn. 1:9), there are often future consequences that we may be unprepared for. We may think we have escaped scot-free (or Dane-free in this case), but sometimes these consequences have a habit of surfacing when we least expect them. Such is what happens to Jacob.
Bier has pulled a strong cast together. Most actors will be unfamiliar to a US audience except perhaps Mikkelsen. He is best known here as the Bond villain who wept blood in the remake of
Casino Royale
. He delivers a strong performance, but is matched by the other key actors. What could have become melodramatic ennui becomes dramatic intrigue from a personal perspective.
As the film progresses other secrets emerge that demonstrate manipulation. And despite the Christian wedding, the characters seem Christ-less and without hope. In one powerful scene, one character falls down in grief fearing death.
Although death is unwelcome and the usual response is "why me, why now", yet it is a part of life, something to be faced. The apostle Paul contrasted worldly and Christian grief in his first letter to the Thessalonians. He said he did not want Christians to "grieve like the rest of mankind, who have no hope" (1 Thess. 4:13). Those without Christ have nothing to look forward to. On the other hand, Christians have the hope of resurrection (1 Cor.15) and the hope that Jesus will return bringing with him those who have died in the Christian faith (1 Thess. 4:14-17). Jesus offers hope for this life and for the one to come.
Another important scene occurs at a large dinner party. When the host stands up to offer a toast, with death once more on his mind, he says: "Time is precious . . .
Every acquaintance, every friend, every person who has a place in your heart . . . it is the time with them that really means something, nothing else matters." Here is the key message from the film, and one that drives a stake through Jacob's heart.
Relationships matter. We can accrue great wealth, but if we live a barren life without friends, it counts for little. And it satisfies not. Jesus told a parable of a rich fool in Luke 12. The man had so much he planned to build bigger barns to store his treasures. "But God said to him, 'You fool! This very night your life will be demanded from you. Then who will get what you have prepared for yourself?" (Lk. 12:20). In another place Jesus said, "What good is it for someone to gain the whole world, and yet lose or forfeit their very self?" (Lk. 9:25) Relationships trump riches. It would be nice to have both, but given the choice, the value of relationships surmount the value of riches. The Indian kids in poverty would rather enjoy the friendships in their crowded city than riches in a cold and friendless country.
After the Wedding helps us to reflect on the sins and errors of our past while thinking about the value of our relationships in the present and future. One may impact the other. But while we cannot change the past, we can focus on enjoying the present. And with faith in Christ, we can look confidently forward with hope to the future.
Copyright ©2013, Martin Baggs