Director: Jean-Marc Vallée, 2009 (PG)
Queens have great majesty and honor. Playing royal monarchs in movies often brings with it similar acting honors. Helen Mirren won her Oscar for her role as Elizabeth II in
The Queen
.
Judi Dench played the first Elizabeth and won a supporting Oscar in
Shakespeare in Love
. Cate Blanchett played this same queen in
Elizabeth
and then went on to win an Oscar soon after for
The Aviator
. Likewise, Elizabeth Taylor starred as
Cleopatra
and just afterward won her second Oscar. Emily Blunt (
Sunshine Cleaning)
plays Queen Victoria here, effectively carrying the movie on her shoulders with a radiant performance. No Oscars for her yet, but with acting like this the honors can't be too far away.
Where most films about Queen Victoria focus on her latter years, when she is well-enthroned as monarch but a lonely widow, here the focus is on her formative years. We see her as a girl ruled over by her mother the Duchess of Kent (Miranda Richardson) and her consort, Sir John Conroy (Mark Strong). Her uncle, King William IV (Jim Broadbent), is still ruling, but getting older and weaker. Conroy wants her to sign a regency order putting him as the ruler while she is still young. But Victoria is headstrong and unwilling to submit to Conroy's domineering control and at times violent behavior.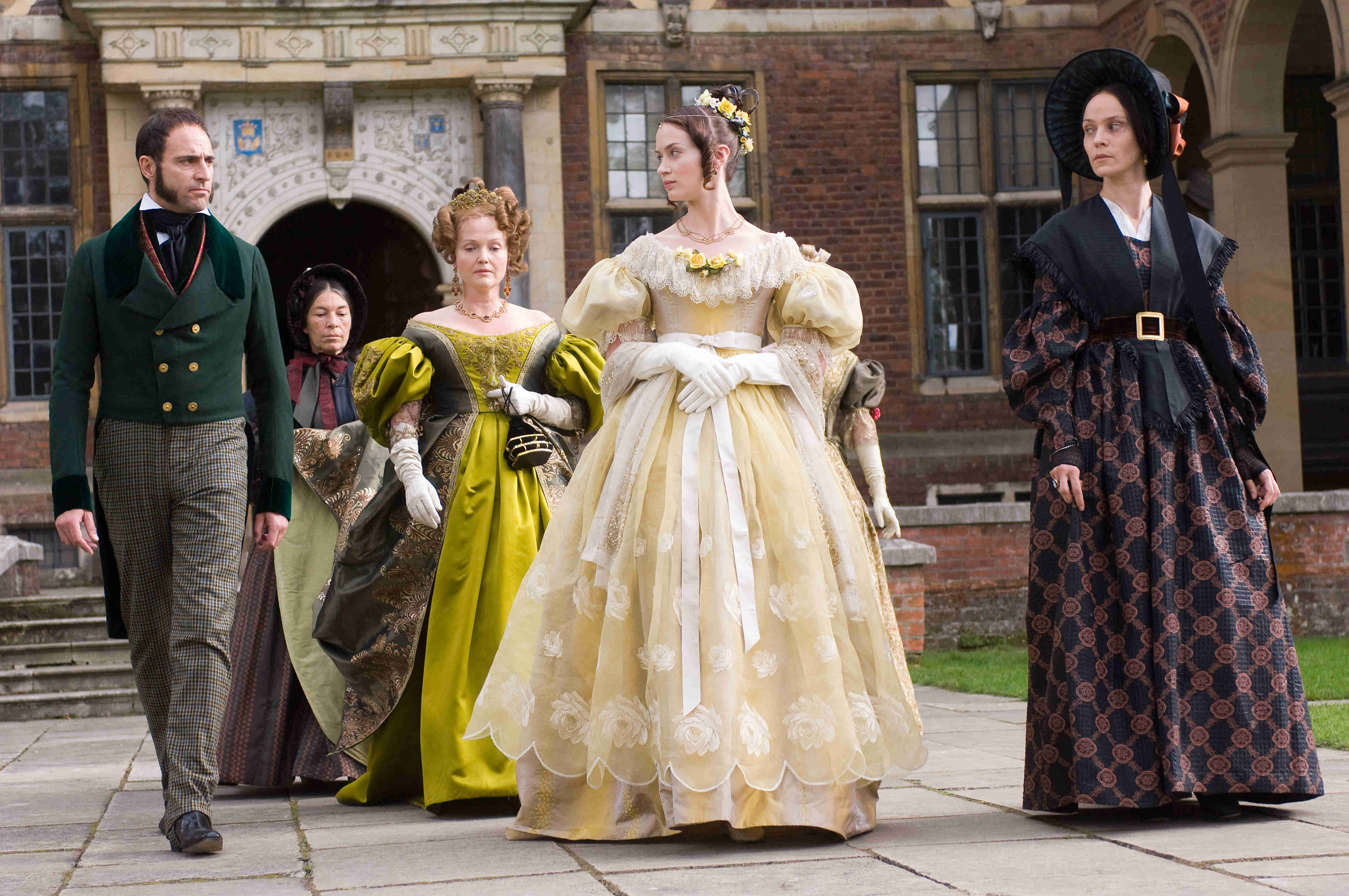 In these early years, Victoria is almost a prisoner in her own home. There are a number of shots looking out of windows or between the bars on cast iron gates, adding to this impression of imprisonment. It is perhaps common for teenagers to feel the leash of parental control as restrictive, even imprisoning.But usually there is a reason, as the parents are seeking the best interests of the adolescents, who are still not quite adults. Even Solomon gives sage wisdom in the book of Proverbs telling his son to listen to him (Prov. 1:8; 4:1).
Even as a young adult, Victoria feels the like a pawn being moved against her will by others. One scene stands out in communicating this manipulation. Prince Albert (
The Boy in the Striped Pajamas
) is playing chess with Princess Victoria when she reveals her feelings to this young man: "Do you ever feel like a chess piece yourself? In a game being played against your will." He answers her, "Do you?" to which she responds, "Constantly. I see them leaning in and moving me around the board." The chess game forms a terrific metaphor for these manoeuvrings. But Prince Albert offers advice beyond his years, advice borne out from first-hand experience, "Then you had better master the rules of the game until you play it better than they can."
Many young adults experience this feeling of manipulation and rebel against it, forcing confrontation and power struggles with their parents, even their employers. But Albert is right. It is more effective to learn the rules and work the system. They can then beat the system, and rise above the rebellious to be the rightful relative or responsible worker who cannot be denied.
This idea of working within the system and being shrewd is echoed in a parable that Jesus told (Lk. 16:1-9). A business manager was caught in the act of stealing and realized his livelihood would be taken away, so he used the system to set himself up. Rather than scold him, "the master commended the dishonest manager because he had acted shrewdly. For the people of this world are more shrewd in dealing with their own kind than are the people of the light." We don't have to remain victims, pawns in the grand game being played. We can shrewdly (but honestly) play the manipulators without them knowing it.
W
hen the King dies, Princess Victoria is elevated to the monarchy and now has power to escape her imprisonment. But as she moves into a more regal and palatial home, she finds more people ready to manipulate her, including the Prime Minister Lord Melbourne (Paul Bettany). Friendships can be deceptive or duplicitous.
Vallee does a fine job of clarifying the dizzying array of characters. Some audiences may not be familiar with the various politicians, advisers and royals who come into Queen Victoria's life. Added to this, the screenplay is engaging and the costumes spectacular. Above all, the cast is excellent, particularly Blunt and Friend. They capture completely the friendship and budding romance between these two young people. Although Prince Albert, a German, was sent to England by his uncle, King Leopold of Belgium, to win her love as a means of gaining political power and support, he falls in love and wins her heart. This is a tender love story set against the politics of the day.
Their growing love is developed through correspondence to one another from different countries. Yet, when the letters arrive, they are read and vetted by the advisers before the principals can see them for themselves. When Albert complains that he has no privacy, this falls on deaf ears.
Interestingly, almost 200 years later, a similar privacy issue is looming large. Today's issue is how private your emails or text messages are. Does an employer have the right to peek at these messages, today's equivalent of Victoria's letters? There is a case currently before the US Supreme Court where a California SWAT team member (Jeff Quon) was sexting, using his government pager to send personal messages, and his employer read them. He sued citing the Fourth Amendment which protects American citizens from "unreasonable" government searches. Public employment is in the center of the storm, but it will reach out into the private sector. Unfortunately, the high court has no real clue at this point, as is evident from Chief Justice John Roberts' statement: "I just don't know. I just don't know how you tell what is reasonable." This may well be a landmark case, but it hearkens back to practices centuries old.
Prisoner and pawn in her immature youth, Queen Victoria develops into a powerful philanthropist. Riding in a carriage looking out at London's poor, she comments, "I do want to help them, whatever you say. And not just the laboring poor, but the hungry and the homeless, and . . . There are people who are lost, and whose business is it to see to their welfare?" Lord Melbourne, her traveling companion, unsympathetically remarks, "Well, in my experience, ma'am, it's best to let these things develop naturally. If you interfere, you risk overturning the cart." A true politician at heart, there are no votes for him in helping these people. So why bother. "Well, Prince Albert doesn't agree. He's made a study of the working man's condition, he's full to the brim with ideas for their improvement."
Victoria and Albert recognized their power and determined to use if for good, for the good of the country and the people who looked to her as their sovereign. They wanted to better the conditions of those down and out throughout the country. Nominally the head of the Church of England, Queen Victoria presents an example of a missional life.
As followers of Jesus, we are called to be intentional in how we live. We are all on mission for Christ, whether we depart for distant shores to take the gospel to the third world or remain ensconced in our day-to-day jobs. Missional living is mandatory. How do we live out the gospel so that it makes a difference in the lives of those who are hungry and hurting, broken and destitute? Are we helping or hindering? Is our Christianity all talk? Or do we put shoe leather on our words?
Victoria's marriage to Albert brought them happiness and joy. This film gives insight into the love that drove the woman at the very heart of the British Empire. We may remember her for her later accomplishments, but she was a woman who fell in love and simply wanted to serve her country with her husband at her side. Their 20 years together produced 9 children, but he died early, in his 40s, leaving the Queen a widow for almost a half century. She remains today the longest-reigning of all English monarchs, ruling from 1837-1901.
Copyright ©2010, Martin Baggs