Director: Alexander Payne, 2011. (R)
Life comes at you fast. It's often brimful of troubles and problems that we don't see coming. Such is Matt King's life in Alexander Payne's independent film. He has all kinds of problems, some of which he isn't even aware of.
The film opens with a short shot of Matt's wife Elizabeth (Patricia Hastie) water-skiing in the beautiful Hawaiian waters. This is the only time we see her awake. A boating accident leaves her comatose on life support in a hospital room. Throughout the rest of the film she remains in this coma, though she shares scenes with all the main characters.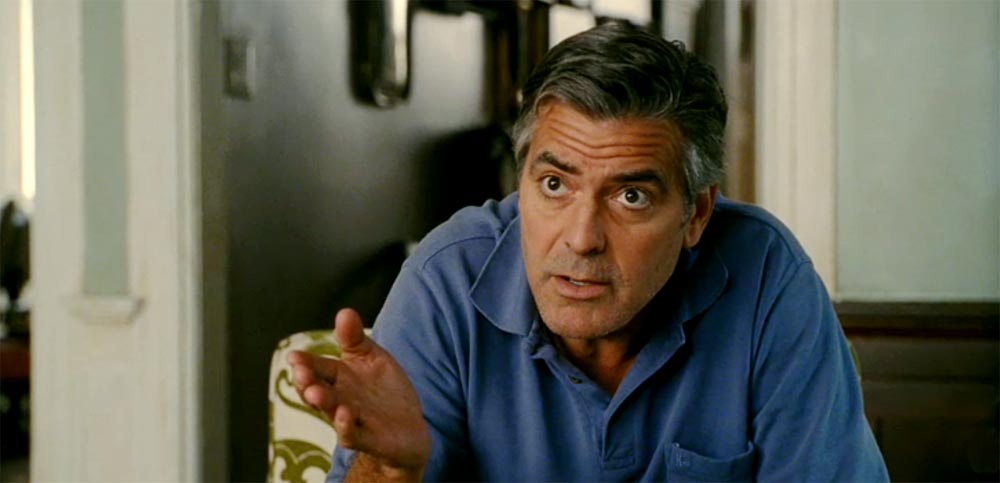 Matt (George Clooney,
The Good German
) is a lawyer and land baron. He and his extended list of cousins (including one played by Beau Bridges) own a large parcel of undeveloped land on Kauai. As sole trustee, Matt has the responsibility of deciding how this land will be sold, and the numerous cousins are forming groups lobbying for particular buyers.
Against this backdrop, Matt has to pull himself away from his work to deal with life. In particular, with Elizabeth comatose he has to deal with his two girls: grade-school age Scottie (Amara Miller) and high schooler Alexandria (Shailene Woodley). As Matt says in voice-over early, "I'm the back-up parent, the understudy." He knows little about parenting. Good grief, he knows little about his girls! When he flies to the main island to retrieve Alex late at night, he finds her drunk and verbally abusive. Their relationship is fractured at best. As if this is not enough, back home Alexandria does not want to deal with the pre-grieving over her mom and reveals a huge surprise to Matt: Elizabeth was having an affair. And Matt did not even suspect.
George Clooney is having a great year. He wrote, directed and starred in the political thriller
The Ides of March
, which has garnered him Golden Globe nominations for writing and directing, and also landed co-star Ryan Gosling an acting nomination. Here, he underplays Matt, showing him as lost but thoughtfully responsive to all the situations he finds himself in. He so submerges himself that we forget this is the charismatic actor that women fawn over. He has been nominated for a Golden Globe for his acting, and he is sure to earn at least an Oscar nomination for this.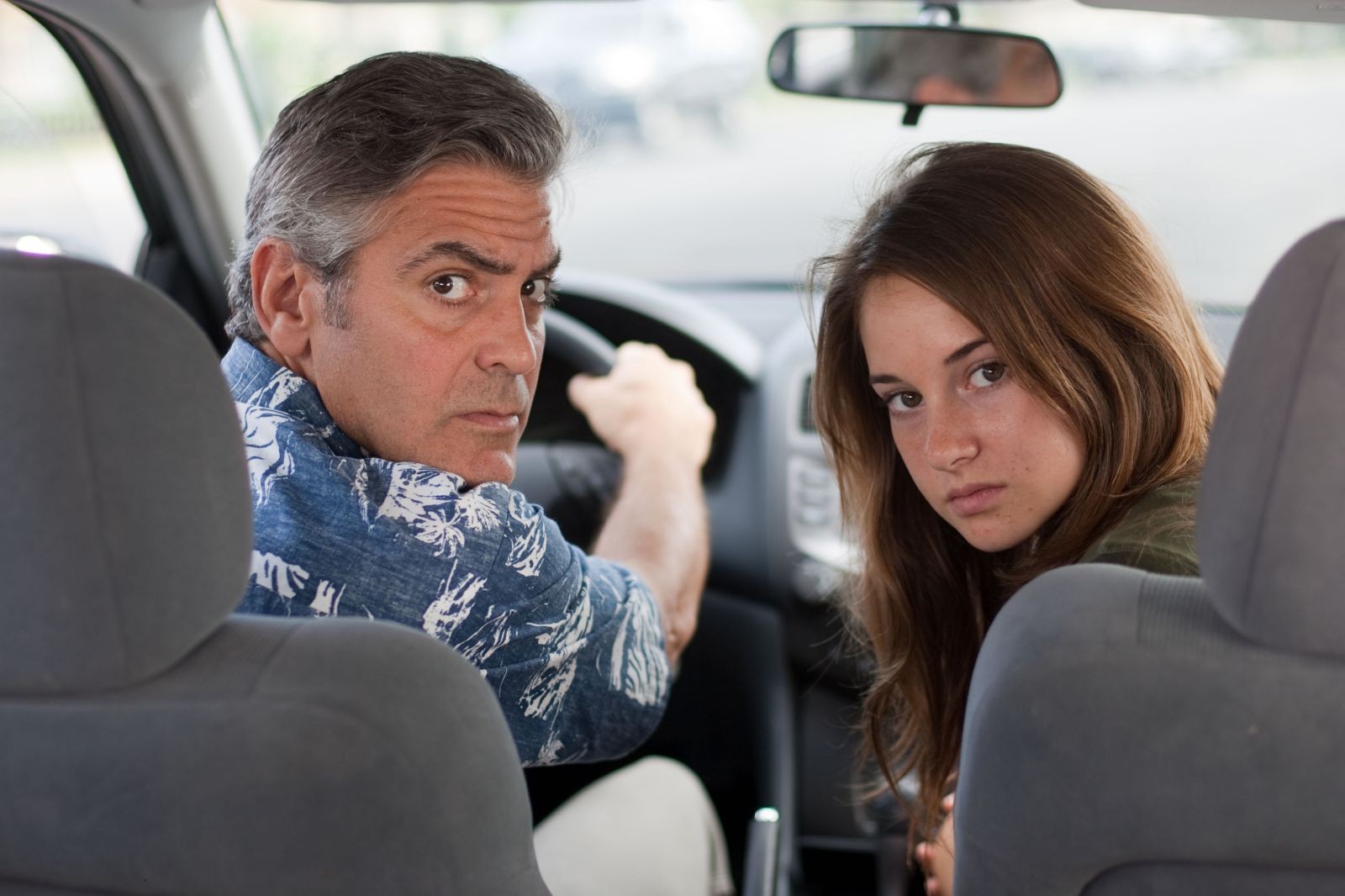 The acting, surprisingly though, is dominated by newcomer Shailene Woodley. She stands up to Clooney and plays alongside him like a veteran three times her age. She conveys the emotions of anger, shock, grief and more with authenticity that belies her age. She, too, should be honored with award nominations this season.
And there is Hawaii. It is almost a character itself in this story. Eschewing the typical tropical shots of the island, Payne shows more of the natural beauty of the undeveloped land. And the customs of the islands is weaved throughout the storyline, from music to mantel photos.
The main story, like most of Payne's movies (including the superb
Sideways
), focuses on relationships. Matt is trying to find himself. He has buried and busied himself in his work, and now he has lost his wife and kids, and isn't sure about himself. His is a journey of self-discovery. Alex is struggling to find her place in the family and ultimately to help her dad on this journey. Bringing along her friend Sid (Nick Krause), who is the comic relief, she (and Sid) sometimes function almost as Matt's parents.
Of course, we realize that relationships are vital to life. We are designed to live in community; even from the beginning God said "it is not good for the man to be alone" (Gen. 2:18). When we ignore our relationships, they wither and die. Sometimes, it is only when we are at risk of losing these that we suddenly realize our predicament. Better to nurture those that are important so we can grow closer, rather than further apart.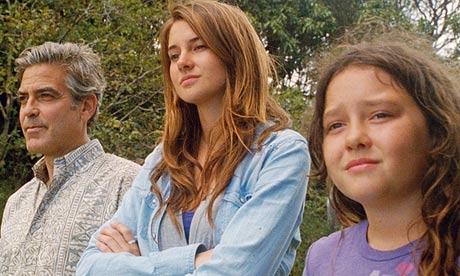 Matt genuinely wants to work to get closer to his girls, and despite his anger, still loves his wife. Unlike many films that move the plot forward quickly, Payne is content to allow Matt to think and reflect. In doing so, he often chooses the unexpected path. Each time he seems to want to respond with dignity and grace, though he is not expressing a faith.
One key scene has his father-in-law in the hospital room with Matt and the girls. When he comments how faithful Elizabeth was and then harangues Matt, we know the truth and expect Matt to rebut him. Instead, Matt ponders, and we can almost see his brain working. And then he responds with grace, so as not to destroy the grieving father's last memories of his daughter.
Like Matt, we need to avoid reacting to life and respond thoughtfully and prayerfully. Grace is the key. The writer of proverbs said, "One who loves a pure heart and who speaks with grace will have the king for a friend" (Prov. 22:11). The apostle Paul put it this way, "Let your conversation be always full of grace, seasoned with salt, so that you may know how to answer everyone" (Col. 4:6).
The Descendants
has received much hype and praise and I found myself a little underwhelmed. The comic moments seen in the trailer are fewer than expected, and the film is quite sad overall. Yet, there is a magic within this melancholy. It is a rare film that lets us see a man dealing with betrayal and death with such dignity, trying to do the right thing by his daughters. He even tries to do the right thing with the land deal.
The movie ends with a shot of a family watching a movie. Ordinary and mundane, this is the destination of the journey. Relationships restored, healing underway. Even in the midst of death, life can go on if we allow grace to suffuse.
Copyright©2011, Martin Baggs