Director: Brian De Palma, 1987.
As with most De Palma films (
Scarface
,
Mission Impossible
),
The Untouchables
is filled with action, blood and violence. It also includes a pretty good "based-on-true-life" story, some decent acting, and it still looks good after 20 years. And it raises the question, what are you prepared to do?
Set in the 1920s prohibition-era Chicago, corruption is ubiquitous. With cops and judges on the take, Al Capone (Robert De Niro) runs the town. He is a larger than life character who is egocentric. He wants to live the good life, of manicures, cigars and operas. But his suavity is superficial and beneath his comic charisma and bluster is a killer's heart: "You can get further with a kind word and a gun than you can with just a kind word." No one will take on Capone because to do so is to receive the gun, or a bomb, not the kind word.
Enter Elliot Ness (Kevin Costner). He comes to Chicago with his wife (Patricia Clarkson) and child as a man on a mission. He is a fed not a cop. When his first raid, with dozens of cops, on a warehouse supposedly filled with illicit booze, fails, he realizes he cannot succeed within the bounds of the police system. Corruption is simply too rampant.
When Ness meets Malone (Sean Connery), a jaded but sage seen-it-all cop on the beat, he knows he has met an honest cop. As he seeks to persuade Malone to join him, Malone takes him to a church, where the walls don't have ears. "You said you wanted to get Capone. Do you really wanna get him? You see what I'm saying is, what are you prepared to do?" he asks Ness. "Anything within the law," replies the upright federal agent. "And
then
what are you prepared to do?" Working within the boundaries of the law is Ness' commitment, but this early in the film he is naive and honest.
As Ness sees the extent of Capone's control and the depths to which he will reach to protect his illegal empire, he changes. He realizes he cannot take Capone down if he keeps the law. Later he admits, "I have foresworn myself. I have broken every law I have sworn to uphold. I have become what I beheld and I am content that I have done right!" This begs the question of the morality of breaking the law to keep the law. Just as Batman did in
The Dark Knight
, Ness becomes more like Capone than the civilians he is protecting. But is he right in doing this, despite his impassioned self-righteous defensive appeal? How would Jesus look at this?
God sees all sin, and breaking the law as Ness did is sin. Indeed, Ness does not just break some minor laws, he violates at least one of the Ten Commandments, "You shall not murder" (Ex. 20:13). When he acts as judge, jury and executioner is he fulfulling the law, or simply seeking vengeance in sinful anger? It seems Ness gives into his anger, and though the ends are right they surely do not justify the means.
To combat Capone, Ness assembles a small hand-picked team. Alongside Malone, he grabs George Stone (Andy Garcia) from police academy. And he is assigned Agent Oscar Wallace (Charles Martin Smith), a short unassuming accountant. For someone who seems to be more at home with books and figures, Wallace packs a punch with a self-loading shotgun!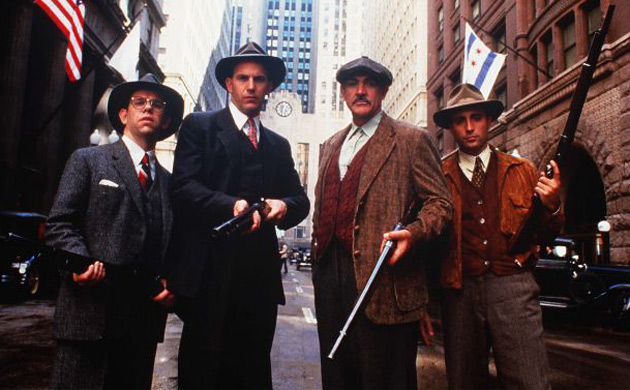 This quiet quartet takes on the might of Capone's army. They are dubbed the untouchables, since the bribery rampant in the rest of the police cannot touch them. When a commissioner attempts to bribe Ness, he is sent packing. These four will remain pure, at least in terms of corruption.
Corruption is nothing new. It was all over Chicago. But it was present in biblical times. The writers of the Old Testament, especially the prophets, address the sins of bribery and corruption in most of their books. At the start of his book, Isaiah said, "Ah, sinful nation, a people loaded with guilt, a brood of evildoers, children given to corruption!" (Isa. 1:4). The nation chosen by God to be his people among whom he would live had as a whole become corrupt. Hosea echoed that sentiment: "They have sunk deep into corruption" (Hos. 9:9). And bribery is addressed even in the Pentateuch: "Do not accept a bribe, for a bribe blinds those who see and twists the words of the righteous." (Exod. 23:8). In a warning that could have been repeated in Capone's day, Amos declared, "You oppress the righteous and take bribes and you deprive the poor of justice in the courts." (Amos 5:12) Bribery will not go away while sin remains present, but followers of Christ are to avoid giving or receiving bribes. We are to remain pure and blameless (Phil. 1:10) just as Jesus was our pure high priest (Heb. 7:26).
De Palma pulls some good performances out of some of his actors. Connery is excellent as the wise and honest father-figure. He won a Best Supporting Actor Academy Award for this role, the only Oscar of his long career. De Niro steals the scenes he is in. Though they are not many, he fills the screen with his bombast. Costner, on the other hand, is stiff throughout. And Garcia doesn't have too much to do.
There are two terrific set-pieces in
The Untouchables
. The first is where Ness' gang work with the Mounties to interecpt a caravan of liquor coming across the Canadian border. Cars, vans, horses and guns create a battle leading to an interrogation famous for Malone's bloody action. Then there is the famous Chicago train station scene that comes towards the climax. De Palma took the idea from the 1925 Russian film,
The Battleship Potemkin
. With Ness waiting for a key witness who is fleeing, his attention is diverted by a crying child in a baby stroller. When the man arrives, the stroller is released to slowly roll down the stairs amidst a bloody gunfight. This is an acclaimed highlight of the film.
As the movie closes, we are left pondering Ness and how far he was prepared to go to achieve his mission. He accomplished his purpose but at what cost? So, what is our life goal or mission? It might be unique to you, although it could include elements of the gospel mission if you are a Christian. What are you prepared to do? How far will you go to make it happen, to be successful? What are you willing to give up, what are you willing to become, to prevail? Is it within the law or will you break or bend the rules to flourish? Is it worth it? These are the questions that Ness faced; these are the questions that each one of us must face and answer for ourselves.
Copyright 2009, Martin Baggs