Director: Terry Gilliam & Terry Jones, 1975.
Forty years ago
this October a group of 6 young men came together to form an awfully silly and awfully funny new comedy troupe. Brits John Cleese, Michael Palin, Eric Idle, Terry Jones, Graham Chapman, and American Terry Gilliam created the now world-famous Monty Python for the BBC TV show, Monty Python's Flying Circus. 45 episodes and 5 films later they called it a day in 1983. But their humor still lives on in DVD collections of compilations.
Their first non-compilation film is a hilarious parody of the knights in shining armor quest genre. Mostly directed by Terry Jones, animator Terry Gilliam stepped in for several scenes when Jones got fed up and gave up. Yet, despite their directorial disagreements and the low budget, the team came up with an anarchic film that is loose on plot but is strong on comic skits. Throw in a few animations and a couple of songs, and the small-screen TV show turns into a cult classic big-screen comedy.
The storyline that holds these episodic scenes together are the two quests embarked upon by King Arthur. His first quest is to seek knights to join his Round Table. We first see him and his servant "riding" over a hilltop. Since the budget was so low that they could not afford real horses, and they came up with the idea of using coconuts to create the clop-clopping noise of the horses' hooves and employ this device throughout.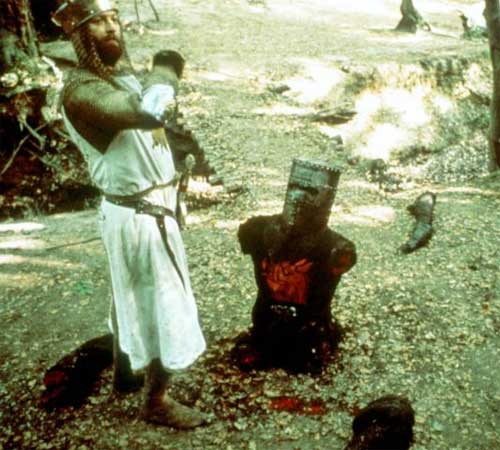 There are some famously memorable lines in
The Holy Grail
. The Dead Collector yells, "Bring out yer dead," a spoof on the black death. (And the old man who pleads, "I'm not dead.") Then there is the wonderfully mixed up logic for determining if a woman (Connie Booth, one-time wife of John Cleese) is a witch ("If she weighed the same as a duck. . . she's made of wood. . . And therefore. . . A witch"). Of course, who can forget the Black Knight and his "flesh wound,"or the Knights who say Ni.
One of the funniest scenes occurs early on, an anachronistic parody of political science and imperialism versus communism. King Arthur has yet to find a knight and comes across Dennis (John Cleese) and his wife, a common peasant toiling in the mud. He introduces himself as their king, and Dennis responds, "Oh, king eh? Very nice. And how'd you get that, eh? By exploiting the workers. By hanging on to outdated imperialist dogma which perpetuates the economic and social differences in our society." When Dennis takes a break, the woman chimes in, "I didn't know we had a king. I thought we were an autonomous collective." Ignoring King Arthur, Dennis answers her, "You're fooling yourself! We're living in a dictatorship. A self-perpetuating autocracy, in which the working class. . . " and he trails off.
Just as neither of these peasants knew they had a king, many today live in ignorance of the one true King, Jesus (Rev. 1:5; 19:16). The peasants didn't experience any benefit from having a sovereign. Unlike them, when we bend our knee in allegiance to our King, we instantly receive sonship in his family (Jn. 1:12), not serfdom. And unlike many medieval kings who did exploit their subjects, taxing them for personal gain or to support war efforts, King Jesus does not explout or oppress the masses. He has lived in the margins, with no place to call home (Lk. 9:58). He understands what it is like to be down-trodden, to be poor, to be a manual worker. He will not Lord it over us as other kings would. That is the kind of King I want.
When King Arthur succeeds in gathering a motley group of knights to follow him, including Sir Galahad the pure, Sir Bedevere the quiet, Sir Lancelot the brave, and Sir Robin the not-quite-so-brave-as-Sir-Lancelot, he gets a second quest. God appears in the clouds, an animated figure, and speaks to him, telling him to go in search of the holy grail. (The holy grail is the chalice that Jesus drank from and shared with his disciples during the last supper -- Lk. 22:17). But in this interchange, God is decidedly grumpy:
God: What are you doing now?
King Arthur: Averting our eyes, oh Lord.
God: Well, don't. It's just like those miserable psalms, always so depressing. Now knock it off! . . . Every time I try to talk to someone it's "sorry this" and "forgive me that" and "I'm not worthy."
This is a comic caricature of God, unfortunately one held by many people. He is seen as a party pooper, a cosmic kill-joy. But, God is not this grumpy person. He is a loving and joy-filled father who wants to enjoy us, his created children, and wants us to enjoy life and all that it entails (1 Tim. 6:17). Furthermore, in this scene God seems to want to be on the same plane as Arthur. Yet, biblically God is exactly the opposite. He is portrayed as completely holy (Isa. 6:3), which is why mortal men like Isaiah realize they are not worthy to be in his presence (Isa. 6:5). And seeing our own sin in the light of God's purity, we cry out for his mercy (Isa. 6:7). This is almost a knee-jerk reaction to God's innate character.
Moreover, the psalms are not at all miserable. They may be difficult to understand, as poetry can be. But they are joyful and loved, a blessing to many a worshiper. Their emotive power penetrates the heart of those who are suffering or grieving, of those who are depressed or rejoicing.The shepherd's Psalm 23 is a pastoral favorite beloved by most Christians ("The LORD is my shepherd, I shall not be in want"). Psalms of thanksgiving, such as Psalm 100, call out plentiful praises to God ("Enter his gates with thanksgiving and his courts with praise; give thanks to him and praise his name. For the LORD is good and his love endures forever; his faithfulness continues through all generations"). Then there are the Messianic Psalms, which point prophetically to the coming Messiah. The most quoted of these is Psalm 110 ("The LORD says to my Lord: 'Sit at my right hand until I make your enemies a footstool for your feet.' "). Finally, the psalms portray the beauty inherent in God's word, the Bible, such as Psalm 119 ("Your word is a lamp to my feet and a light for my path").
Speaking of the Bible, King Arthur makes implicit reference to this holy text when he needs help. Facing the dreaded killer rabbit, only the "Holy Hand Grenade of Antioch" will suffice. But the king has a problem: "How does it work?" When no one can answer him, Arthur declares, "Consult the Book of Armaments." And Brother Maynard, one of the attending priests, opens the book, "Armaments, chapter two, verses nine through twenty-one."
As much as this elicits laughter, it does impress the point of the power of the holy word. The Bible is God's very own communication to man: "All Scripture is God-breathed and is useful for teaching, rebuking, correcting and training in righteousness" (2 Tim. 3:16). As such "the word of God is living and active. Sharper than any double-edged sword, it penetrates even to dividing soul and spirit, joints and marrow; it judges the thoughts and attitudes of the heart" (Heb. 4:12). More powerful than a stick of dynamite or a holy hand grenade, it shows us how to come to a life-bringing faith in the life-bringer, Jesus (Acts 4:12, Rom. 10:10).
For an irreverent parody,
Holy Grail
points us back to God and the Bible, both key doctrines in theology. And interestingly, when the team were asked by the press what their next project would be, Eric Idle flippantly answered, "Jesus Christ's Lust For Glory." When they realized this shut the reporters up, they continued to use this answer. And over time, they got to thinking that something like that would be a great topic, and this led to
The Life of Brian
, another comedy that served up much food for theological thought.
Copyright ©2009, Martin Baggs