Director: Tom Hooper, 2009. (R)
The Damned United refers to Leeds United, the top football (soccer) club in England in the 70s. To Brian Clough, the manager (aka coach) of Derby County, another first division team, Leeds was his bitter rival. Actually, Don Revie, the manager of Leeds, was his arch-enemy but Revie and Leeds were synonymous in his eyes. This is the story of that rivalry.
Hooper's film focuses on Clough (Michael Sheen) and his 44-day reign as the manager of Leeds United in 1974. For those interested in English soccer, it is a compelling and nostalgic look back. Interspersed with some actual footage of soccer matches from the period, it brings back fond remembrances of soccer players with short shorts running on horribly muddy pitches watched by fervent fans standing not sitting. More than this, though, it paints a stark character portrait of a man burning up with ambition, arrogantly thinking he is better than everyone else.
Brian Clough was one of the premier managers in English soccer, working with his assistant manager Peter Taylor (Timothy Spall, Wormtail in
Harry Potter and the Goblet of Fire
). Hooper repeatedly cuts back to Clough's earlier days with Derby County in the late 60s when they were a second division side. Life in this lower league was hard with few fans. But the fans were loyal to the club of their birth. If you grew up in Derby, then Derby was your team.
The extended flashbacks explain the origin of the rivalry. Leeds were drawn away at Derby in the FA Cup. Preparing for that visit, Clough did an almost extreme makeover on the tarnished facilities, wanting the esteemed Revie to feel honored and in turn appreciate Clough. Instead, Revie ignored the man, refused to shake his hand, knowingly or unknowingly, and thereby created a monster. Half a decade later, Clough has led Derby to the first division to become peers with Leeds.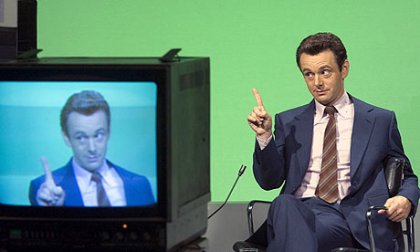 When Revie is offered the job as England manager, he accepts leaving champions Leeds leaderless. Leeds' chairman Manny Cussins (Henry Goodman) turns to Clough asking him to take the reins. Even before he shows up to meet the directors though, Clough stops for a TV interview where he takes Revie to task for coaching his team to play dirty. At his subsequent belated interaction with the directors Cussins takes him to task: "I hired you to do this job because I think you're the best young manager in this country." Clough retorts egotistically, "Thank you. I'm the best old one, too." But Cussins goes on, "I also did it under the assumption that you would be coming here wanting the best for this club. For the city of Leeds. So why do I get the feeling this is all about you and Don?" Clough's response: "Of course it's just about me and Don. Always has been."
Rivalry can be a good thing. It can bring the best out of us. We raise our game to beat our rivals. But it can also be a bad thing. We can be consumed by the rivalry, putting everything else aside. The victory over the rivals becomes our focus. This is tantamount to idolatry, as we spend our time and energy on this one pursuit. Certainly this is evident in Clough's rivalry with Revie. He wanted to be better than Don.
Ambition is like this, too. It gives us drive and inner energy. But when we set aside others, like our families or even our God, for this goal we become idolators. Toward the end, when he and Taylor are facing a decision that might separate the two, Clough pours scorn on his friend: "And then what? Bottle again [run scared] as soon as it comes to the big time? That's always been the trouble with you, Pete. No ambition." But Taylor insightfully points out, "That's the trouble with you, Brian. Too much ambition. Too much greed, too much everything!" Ambition has a place but it is not central.
Sheen presents a brilliant portrayal of Clough. He even looks somewhat like the man. As he did with his role of Tony Blair in
The Queen
he seems to susbsume himself completely and we see the man portrayed not the actor present. Clough comes across larger than life, with charisma, ego and blind ambition that prevents him seeing his own faults.
Clough's arrogance overwhelms his relationships with his players and his chairman. "I wouldn't say I was the best manager in the country. But I'm in the top one." Even when staring at disaster and defeat his arrogance knows no bounds. Cussins asks, "Who do you bloody think you are?" What a question for a self-assured and arrogant man: "Brian Clough. Brian Howard Clough." More than self-confidence, he reeks of overconfidence.
The apostle Paul gives a warning to the Romans: "Do not be arrogant, but be afraid" (Rom. 11:20). Arrogance leads us to consider ourselves bigger and better than everyone else. The way to overcome such arrogance is to "not think of yourself more highly than you ought, but rather think of yourself with sober judgment" (Rom. 12:3).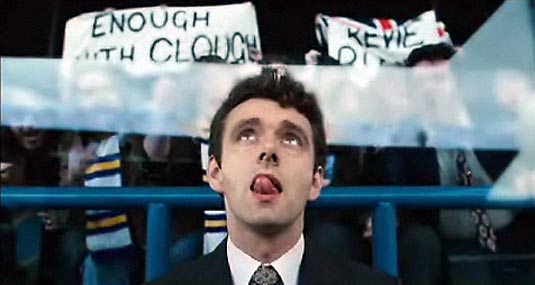 Clough did go on to great victories with other clubs, notably Nottingham Forest. He took them to become champions of the first division and then on to win the European Cup twice, the first English club to achieve this. But this picture of the man gives insight into what drove him in his earlier days. And arrogance and ambition are not easy drivers. They can make a man a winner yet with a losing character!
Copyright ©2010, Martin Baggs