Director:John Michael McDonagh, 2011. (PG-13)
The opening scene shows a group of young guys drinking and driving, swerving all over the road. When they pass a hidden cop car, the officer does nothing. Containing a yawn, he waits idly before slowly pulling out. By the time he reaches their car, it lies on its roof, with their bodies scattered. Picking through their pockets the Guardia officer finds some drugs and samples one, like a consumer in Costco. This picture plainly portrays Sergeant Gerry Boyle (Brendan Gleeson): an unconventional cop. Not dirty in the sense of Hollywood's corrupt policeman, Boyle is a man with his own morals and laws who seeks to maintain the law in his little village.
John McDonagh penned the script for his directorial debut, creating a simple plot that is strong on character filled with crackling dialogue and fast wisecracks (as well as very liberal swearing). Despite the heavy Irish brogue, most of the comedic lines come across. This is like an Irish version of Hot Fuzz, pairing two unlike cops, one of who does not want to be a partner.
The plot revolves around drugs in a sleepy town on the west coast of Ireland. Boyle runs the local police station, which consists of him and a new guardsman. When FBI Agent Wendell Everett (Don Cheadle) is sent to investigate a $500M drug running operation said to be coming to the area, apparently involving a team of low-life thugs, Boyle is one-step ahead. Because of this and his knowledge of the town, the two are paired off as buddy cops.
Yet the two are like chalk and cheese. Boyle is boozy and single, focused on his pleasures as much as his work, doing a little dope and drink to unwind. Everett is straight-laced, a family man with a kid at home. Being black, Boyle assumes he is from the projects, but not so. Boyle's racism comes across loud and clear, but he is open about it: "I'm Irish. Racism is part of my culture." This is actually funnier than it sounds when taken in context. But it highlights the dry and British sense of humor prevalent throughout. It is fast and throwaway, ignoring social mores.
While running with the drug theme, the film still finds time to focus on family. Boyle's mother is dying but retains her sense of humor and sense of dignity while living in a hospice. Their conversations, in scattered scenes, borders on the peer friend level rather than mother-son. But their dialogue conveys the depths and openness of their relationship even to the end.
There are few themes here. Like Hot Fuzz, this is a fun film that remains superficial. Yet, three themes do emerge. Dignity is the first. Boyle's mother does not want to be like some of the "inmates" of the hospice, shuffling around waiting sadly to die a lonely death. No, she wants to face death with dignity. Unlike many, she is not afraid of her imminent demise. Although not a godly woman, "she is clothed with strength and dignity; she can laugh at the days to come" (Prov. 31:25). Oh that we should be like this woman as we approach the end of our days on earth. Dignity is a character quality to be esteemed.
A second theme is duty. Although Boyle enjoys playing around in pubs and with prostitutes (and was ready to take his vacation day off despite the presence of killers and drug smugglers, much to the chagrin of Everett), he does take his work seriously. He has a duty to those in his community as their law enforcer. He wears his Guardia uniform with pride. He serves in a manner worthy of the uniform.
As followers of Christ we wear a uniform: "for all of you who were baptized into Christ have clothed yourselves with Christ" (Gal. 3:27). Jesus is our uniform! And because of this we must conduct ourselves "in a manner worthy of the gospel of Christ" (Phil. 1:27). Moreover, whatever our job, the apostle Paul commands us: "Serve wholeheartedly, as if you were serving the Lord, not people" (Eph. 6:7). We need to take our Christian duty seriously.
The third theme emerges from Clive Cornell (Mark Strong), the only English thief amongst the group of criminals. And he is different in many ways. Here is a thug who pines for meaning in life. He yearns for a better class of crook. He refuses to carry a body since it was not in his job description as an international drug trafficker.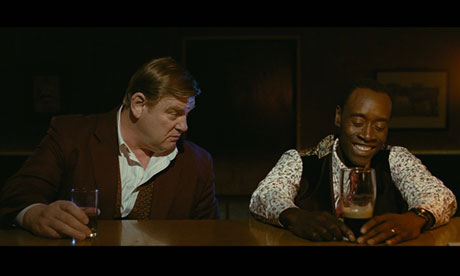 This philosophical pilfering punk voices the deep discontent each soul feels at one time or another: what is the meaning of life? What is its drift? Is there something beyond the everyday mundane? Indeed, there is. God has made each one of us to have a relationship with him. Perhaps Solomon, the wisest king to live and the writer of the book of Ecclesiastes, echoed this most poetically saying of life, "All of it is meaningless, a chasing after the wind" (Ecc. 2:17). Yet he recognized that God "has also set eternity in the human heart" (Ecc. 3:11). And in the concluding verses of his book he declared, "Fear God and keep his commandments, for this is the duty of all mankind" (Ecc. 12:13).
The New Testament writers painted a clearer picture. The meaning of life is found in knowing Jesus. Jesus is the way, the truth and the life (Jn. 14:6) and is the one who said, "I have come that they may have life, and have it to the full" (Jn. 10:10). So, regardless of our career or vocation, our job title or position, we can find meaning in Christ if we do everything for him with thanksgiving in our hearts(Col. 3:17).
Dignity, duty and drift emerge then from the shallow depths of this slightly off-color comedy as lessons we can hang on to. If you liked Hot Fuzz, you will enjoy this also.
Copyright ©2012, Martin Baggs