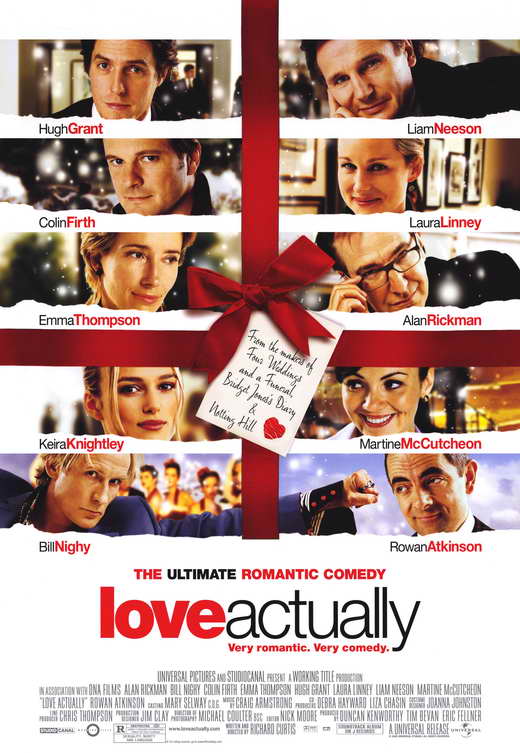 Director: Richard Curtis, 2003 (R)
This Christmas-centered romantic comedy both opens and closes with scenes at London's Heathrow Airport. The introductory sequence shows numerous people, irrelevant to the movie, waiting for and greeting their loved ones while a voice-over from David (Hugh Grant), the new Prime Minister declares:
"Whenever I get gloomy with the state of the world, I think about the arrivals gate at Heathrow Airport. General opinion's starting to make out that we live in a world of hatred and greed, but I don't see that. It seems to me that love is everywhere. Often, it's not particularly dignified or newsworthy, but it's always there - fathers and sons, mothers and daughters, husbands and wives, boyfriends, girlfriends, old friends. When the planes hit the Twin Towers, as far as I know, none of the phone calls from the people on board were messages of hate or revenge - they were all messages of love. If you look for it, I've got a sneaky feeling you'll find that love actually is all around."
Curtis has assembled a premier cast from the cream of British acting. Most shine, although Hugh Grant is miscast as the prime minister. He does not ooze political power, although thankfully he goes light on the trademark Grant fluttering eyelids. Liam Neeson, Emma Thompson, Alan Rickman, Rowan Atkinson, Martin Freeman, Bill Nighy, Colin Firth, Chiwetel Ejiofor, Keira Knightley, feature alongside Americans Laura Linney and Billy Bob Thornton.
As an ensemble comedy, multiple love stories interweave with one another. Curtis cuts from one to another with little or no fanfare. Although they appear disparate, they do have interconnected elements which come together in the final climax. Some of the stories are funny, some tender, some touching, some awkward. All focus on how love is present, even if not in the form that we would expect.
Three stories stand out. One focuses on Bill Mack (Bill Nighy), a bad grandad rocker, trying to make a comeback with a corny rip-off Christmas song that even he knows is crass and crap. Yet this cynical singer discovers a philadelphian love that has been starting him in the face for decades. Nighy, terrifically funny in almost all his films, is flat-out hilarious in every scene he is. But given the number of actors, that's not too many and not nearly enough.
This homage to love highlights that love can be friendly and not necessarily amorous or erotic. Jesus commands his followers: "love one another" (Jn. 13:34). Paul adds to this, "you do love all of God's family throughout Macedonia. Yet we urge you, brothers and sisters, to do so more and more" (1 Thess. 4:10). Those around us may indeed be our true friends, the ones we must love in this way. It's a surprise to find this message wrapped up in a cynic's coat.
The second story is bittersweet, highlighting the painful nature of love. Carl loves Sarah (Laura Linney). Sarah loves Carl. It is apparent to all in the office, yet neither will make a move. When they eventually connect and clothes are cast off, her omnipresent and ever-ringing cell phone twills. This interruption makes clear that her brother, on the other end, is more important than a love affair. Sibling love, in this case, trumps all. Certainly sibling love has real value but Sarah has swung too far to the end of the spectrum on this one.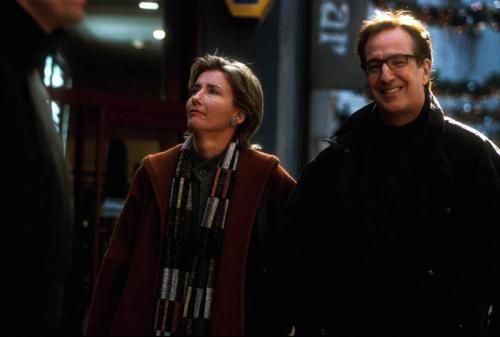 The final story, too, is bittersweet. Karen (Emma Thompson) and Harry (Alan Rickman) are a middle-aged couple with kids. Happily married, or so it seems, but Harry is being pursued by his assistant, a tempting vixen whose desires are quite apparent. Sadly Karen discovers this at the worst time: opening presents on Christmas Eve. But she understands the sacrifice it will take to show true forgiving love while maintaining a brave face in order to sustain a family.
Love is all around us. Love has many faces and many forms. Love should be uplifting, building up, strengthening, protecting, persevering (1 Cor. 13:7). When it seems to be pulling us to someone younger away from our spouse, it is not love; it is lust. Lust must be avoided, as it damages and destroys. Only through the power of forgiveness can trust slowly be rebuilt.
There are so many stories and characters in this film it is hard to keep up. Like a cup of sweet eggnog, it is enjoyable, but too sugary to be taken too often. Every couple of years would be fine, just to remind us of the omnipresence of love.
Merry Christmas to all! May you discover the love that is all around you.
Copyright ©2013, Martin Baggs