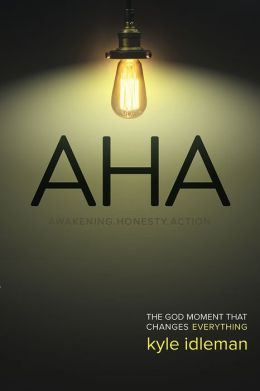 Author: Kyle Idleman, 2014. (David C. Cook)
Jesus taught in parables. One of his most famous parables is that of the prodigal son, found in Luke 15. Idleman, Teaching Pastor at Southeast Christian Church, a megachurchin Kentucky, bases his whole book on this parable, deriving from it a three-point message elaborated in 13 chapters. Along the way, he includes biblical illustrations from the lives of David, Zacchaeus, Naaman, and the thief on the cross. But the focus is on the prodigal son, his older brother and their father.
This short, 200-page book, is a very easy read. But don't let the ease of narrative fool you; this is not simple. Idleman puts each of us in the spotlight and makes for a tough read if we are honest. More on this later.
The three points drawn from this parable are clear: 1) a sudden awakening; 2) brutal honesty; and 3) immediate action. The book is divided into three sections, each dealing with one of these points.
The first section on Awakening is the easiest, but sets the scene for the other two. Here Idelman helps us put ourselves in the place of the prodigal son, who took his inheritance and departed from his father for a distant country. Idleman says, "I have described the Distant Country as any area of our lives where we are trying to live independently of the Father" (p.44). He points out that we all have a tendency to go there. "If you are on the path to the Distant Country, step back and ask yourself: Where is it leading? What happened to others who have gone this way?" (p.40). When we understand this, we have awakened, as the prodigal did, to our reality and undesirable circumstances. We all need such awakening. That makes sense.
Once awakened, though, comes the need for honesty. "AHA requires you to tell the truth about yourself to yourself" (p.81). When our tendency to denial emerges, as Idleman posits it will, "confession is the only cure for denial. Every one of us would prefer to skip this part of AHA." (p.106) It is here, in the section on brutal honesty, that the rubber hits the road. He gives us a set of self-assessment questions and asks to stop reading and go to a private room and answer them aloud. He recognizes this will be hard. Harder still is telling this truth to someone else, an action he claims is necessary. This is where it got hard for me. Reading is quick. Stopping to do the exercise is slow. Telling the results to someone else is painful. But, as organizations like Alcoholics Anonymous understand, such raw vulnerability is the first step in the journey home.
From such brutal honesty, Idleman takes us into the final section on action. "Until there is action, our beliefs and convictions aren't genuine." (p.147) He adds, "passivity wants to cheat. Action wants to change." (p.151) This section, after the pain of honesty, is almost a relief.
Throughout I felt like Idleman was focusing too much on the prodigal and ignoring the older brother, a person I relate to perhaps too much. But he overcomes this perceived deficit with an outstanding chapter focused on the older brother that closes the book. He leaves him to the end as this brother never experienced the AHA. Like the Pharisees and teacher of the law that Jesus is talking to, "older brothers often focus on the flaws of others" (p.198). Those of us with a tendency to critical spirits find ourselves looking at the profligate prodigals and complaining. But we have our faults, too. We could do with our own AHA moments, even if it comes while still at home. Our distant country is spiritual not geographical. He concludes with the words, "ultimately, the story in Luke 15 isn't about two sons who disobey. It is about a Father who loves His children unconditionally." (p.205)
For those willing to listen, Idelman's book is a solid read. Jesus told those who listened to his parables, only those with ears would hear. In this case, only those willing to take action should read this book.
Disclosure of Material Connection: I received one of more of the products or services mentioned above for free in the hope that I would mention it on my blog. Regardless, I only recommend products or services I use personally and believe would be good for my readers. I am disclosing this in accordance with the Federal Trade Commission's 16 CFR, Part 255: "Guides Concerning the Use of Endorsements and Testimonials in Advertising."
Copyright ©2014, Martin Baggs