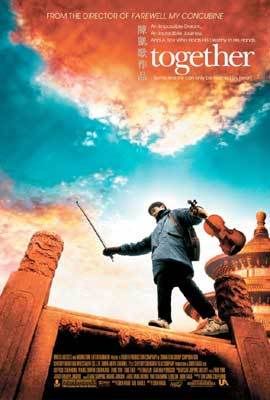 Director: Kaige Chen, 2002.
Music is a powerful art form that is a pathway to the soul. It can arouse emotions. Gifted wizards can turn a musical instrument into a magic carpet that carries us from the ordinary moments of our lives to the mountaintop experiences. But even gifted wizards have to start somewhere. And
Together
is about one of these wizards, Xiaochun (Yun Tang), and his journey. The journey gets sentimental in places, but it is an inspiring and poignant story of love and ambition, a lyrical heart-warmer for the whole family.
As the film opens, 13 year-old Xiaochun is called to a birth in his village and asked to play his violin to help the pregnant mother whose delivery has stalled. Playing with passion, his music enables her to get through the labor. When the father wants to give money to Xiaochun's father, Liu Cheng (Peiqi Liu), he won't accept it. For him, Xiaochun's music is a gift to be given away freely, like grace. He will not demean the gift, prostituting it, as a way to exploit the blessing his son has been given.
Instead, Liu takes Xiaochun, a child prodigy with his violin, to Beijing to compete in a classical music competition in an attempt to win a place at the music academy. But although being the best in the competition, politics and corruption creep in and Xiaochun loses out. In desperation, Liu pursues a private teacher, Professor Jiang (Zhiwen Wang) and finally persuades him to take on his son.
Jiang lays down the groundrules immediately:
First, you'll have to work hard. Otherwise, it's pointless. Second, you must enjoy playing. Refrain from playing unless you enjoy it. And finally, don't play only when you think of your mother.
The violin Xioachin plays was his mother's and she died when he was two. Music was his connection to her and her memory. When he played, he played with passion for his dead mother. But Xiaochun had to want to go beyond this in his music. He had to play for the sheer enjoyment of letting his gift emerge. This gift would be a blessing to all who would hear.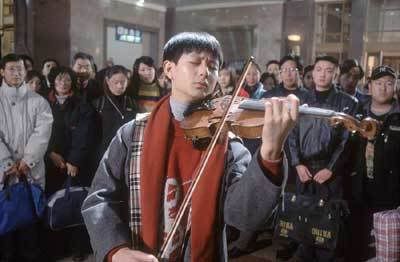 Professor Jiang's rules remind us that we, too, have a responsibility to work hard and enjoy what we do. Work was never a curse. It was given to mankind in the opening chapter of Genesis, when God told man and woman to subdue the earth (Gen. 1:28). The cultural mandate precedes the curse of Genesis 3. But when sin entered the world, God placed curses on man, woman and Satan. Work became cursed (Gen. 3:17-19), not a curse in itself. It would become burdensome. Yet, God gives each one of us gifts and talents to use in our labors, in our careers. When we align our unique skill-sets with a job or career that matches, we find the job to be more than simply work, it is something we can enjoy. Many today have not discovered this, and perhaps this is due to misalignment. God wants us to enjoy our work: "That everyone may eat and drink, and find satisfaction in all his toil -- this is the gift of God" (Ecc. 3:13).
Another lesson is seen in Professor Jiang. When we first meet him he is disheveled, and his home is a mess. Stray cats abound, dirty clothes are strewn or lost. He has lost his passion for music. He has the skill and can teach, but he is going through the motion. But Xiaochun's humility, his mindset of service, challenges and changes him. Even as Xiachun learns technique from him, Jiang learns life lessons from his student. Sometimes we learn more from those we teach than from our teachers or superiors. A gentle heart and a humble spirit can be a powerful force for conviction of those who need to change.
When
Together
moves into its final act, Jiang has taught Xiaochun all he can. He has outgrown his teacher. And Liu arranges for Xiaochun to live with Professor Yu (Kaige Chen), a lecturer at the music academy.Writer-director Chen takes an active role as this professor. Yu is worldly-wise, and has developed latent talent into successful professional performers. Xiaochun must leave his father and move into a different world. Even his clothes and hair must change if he is to stand a chance. As he begins to fit into this world, his love for his father changes, and his passion for his music dissipates. To provoke his passion, Yu reveals a startling secret that causes Xiaochun's life to unravel, and forces him to make the most difficult choice of his life, a choice that will define his destiny.
Together
warrants some comparison with
August Rush
, an American movie about a child prodigy. Both focus on a child who has lost parents. While Xioachun has lost his mother, August has been abandoned by his living parents and brought up in an orphanage. Both have a teacher with problems before moving to more accomplished and professional instruction. And where Xiaochun plays for his mother's memory, August composes in an attempt to find his parents and be reunited with them. Ultimately, the difference comes in the climax. Where
August Rush
has a Hollywood ending, as predictable as the rain in Portland,
Together
leaves us with an ending that satisfies even as it surprises.
Ultimately,
Together
is a story of love. The love of Liu for his son is clear in the sacrifices he makes to stay together with Xiaochun and see him succeed even at the cost of his own happiness. A parent's responsibility to raise a child in the way he should go (Prov. 22:6) is illustrated as Liu understands this gift of music is one that must be developed at all costs. Above all, he wants Xiaochun to find success and acclaim as a great violinist.
God the father has a sacrificial love for his children. This love caused him to send his son, Jesus, into this world taking on our very fleshly form (John 3:16). He who was sitting in glory humbled himself by being born in a barn and living a life of poverty. Only by becoming one of us, living a pure and sin-free life, and then carrying our sins on the cross in our place, could this love offer us a way to live with him.
But love is bi-directional. As Liu loved Xiaochun and sacrificed for him, so Xiaochun loved and honored his father. He demonstrated this love in his choices and his obedience to the wishes of his dad. Followers of Jesus, as children of God, must have a reciprocal love for him. We have experienced first-hand the love he has for us. Now that love must flow back to him. Jesus said, "If you love me you will keep my commandments" (Jn. 14:15) We love by obeying, not out of fear or duty but from the compulsion of love itself.
Copyright ©2009, Martin Baggs