Director: Mike Leigh, 2008.
How do you approach life? Are you a "glass-half-full" type of person? Or is the glass half-empty? For Poppy Cross (a superb performance from Sally Hawkins), the protagonist, the glass is half-full even when it is almost empty! She looks on the bright side of everything.
Mike Leigh sets the tone at the very beginning. Sally locks her bicycle against a railing in Camden, London, and enters a bookstore. The first book she pulls out to look at -- "The Road to Reality." Poppy comments, "Definitely, don't want to go there!" She is living above the level of reality. Then, when she emerges to find her bike stolen, she doesn't fret or scream. Instead, she merely regrets getting no chance to say farewell to her trusty two-wheeled friend. Losing her bike allows Leigh to throw in a recurring plot element -- driving lessons with instructor Scott (Eddie Marsan).
Happy-go-lucky describes Poppy to a tee. She is 30 and single, living with Zoe (Alexis Zegerman), a long-time friend. Where Zoe is cynical and sarcastic, Poppy is cheery and cheeky. She is playful and funny, and she brings this sense of vivaciousness to her job as a primary schoolteacher.
Happy-Go-Lucky
is a road trip on the journey of Poppy's life. There is not much in the way of plot but it offers a glimpse into her character and those around her. It is a slice-of-life story focusing on several events that she encounters; it shows how she handles life. Nothing will zap her attitude. For Brits and Anglophiles this is a funny movie. Those who don't understand or enjoy the British sense of humor might find it a little slow.
Poppy's life purpose is clear: to be happy. But there is more than that.
When Zoe tells her, "You can't make everyone happy," she replies, "There's no harm in trying that Zoe, is there?" She is a positive spirit trying to bring that aura to those around her.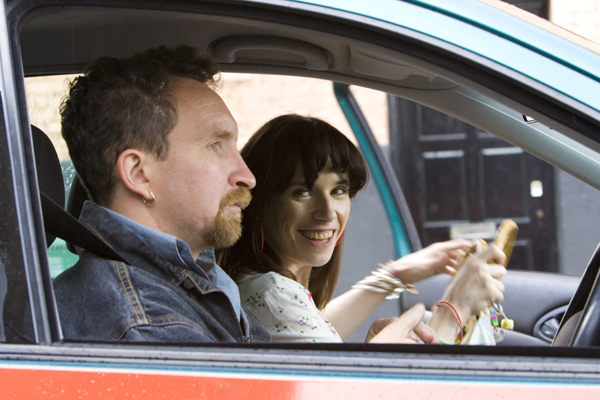 In a way Mike Leigh offers two contrasting views of life. Poppy is carefree, ready to live on the edge, even talking to strangers. She is apparently happy with her life. Those around her act as foils. Her married but melancholy pregnant sister tells her she needs to get a mortgage, a marriage and kids. At her age, this is a must. But is it really? Scott, her driving instructor, reiterates this. He thinks she needs to settle down, she needs to behave like an adult. But Scott is a stressed out soul, who is visibly wound up tighter than a Swiss watch spring. Who is he to give this kind of advice to someone happier than himself?
The British are proverbially known for their stiff-upper-lip. And Scott and the sister are this and more. They cannot "go with the flow" and enjoy life. More than that, they seem to need to control others. Poppy, epitomizing those who are living happily, seems to be an affront to them. Perhaps Poppy acts as a mirror, metaphorically, that makes them see themselves for what they are, and this is not pretty.
Clearly Poppy represents a positive approach to life. Her attitude is one that is seemingly invincible. Nothing can shake her. As Jesus-followers, we ought to have this kind of mindset. Life is there to be lived, embraced and enjoyed. We know Jesus loves us. As Paul says, "If God is for us, who can be against us?" (Rom. 8:31). Paul goes on in this same passage:
For I am convinced that neither death nor life, neither angels nor demons, neither the present nor the future, nor any powers, neither height nor depth, nor anything else in all creation, will be able to separate us from the love of God that is in Christ Jesus our Lord. (Rom. 8:38-39)
With all this in mind, we should certainly try to be more like Poppy than Scott.
Leigh's film gives a number of interesting and funny vignettes into Poppy's life. Her adventures in driving drive Scott to the brink of sanity, though he doesn't quite jump off the edge. She jumps like a toddler on a trampoline. A friend takes her to Flamenco dance lessons where she stands out as a person willing to be different. She witnesses one of her students bullying another and intervenes as a friend more than a teacher and gets him help. She is a kind and generous person who has an overabundance to give to those around her. She has an optimism that is contagious.
Although annoying at times, Poppy has a zest for life that is plain to see. But what is the root of her happiness? Is it real? Or is it simply escapist, her attempt to run from reality? Although the opening scene may lead us to think the latter, I believe Poppy's warmth and zeal come from her sincerity. She is real. She is true. She does not try to hide behind a mask. She loves her job. She loves her friends. She enjoys life. She is who you see.
As viewers we relate to Poppy because of her openness and authenticity. We see a person whose approach to life is not only to be commended but copied. Christians especially have every reason to be like Poppy. Thanks to Jesus, we "have life, and have it to the full" (Jn. 10:10). But regardless of our faith, if we all lived a little more like Poppy, this world would be a happier and better place.
Copyright ©2009, Martin Baggs