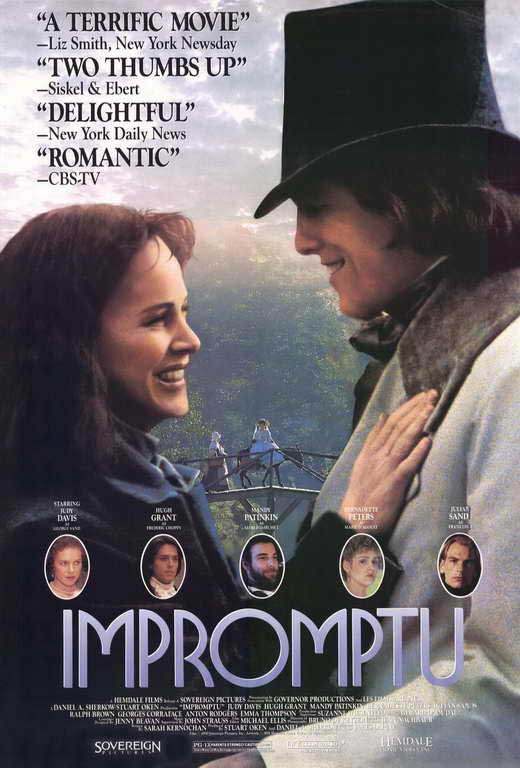 Director: James Lapine, 1991 (PG-13)
George discovers Fred, a wimpy slightly effeminate artist, and pursues him seeking to become lovers. Sounds like a gay love story, right? Wrong. This is a period piece that has moments of comedy and romance but is mostly a biopic drama.
The film tells the story of Baroness Amandine Aurore Lucie Dupin (Judy Davis) focusing on her pursuit of Frederic Chopin (Hugh Grant,
FourWeddings and a Funeral
) in mid-19
th
century France. A novelist, Dupin was most famous for her disregard for rules and social mores. In particular, she took on the masculine name George Sand, started wearing men's clothes and smoking cigars in public. None were done as a form of sexual gender-bending; she just found men's clothing more comfortable, and opened more doors (literally) to her as a woman, and enjoyed tobacco. Indeed, she caroused openly after separating from her baron-husband, and indulged in a number of affairs while writing her non-literary novels.
As the movie begins, she is in her country estate with her two children, hiding behind locked doors from her current lover Mallefille (Georges Corraface), who won't take the hint that she wants him gone. During a trip to Paris to plead for a further advance on her current work, a memoir, she hears angelic music played by the composer and pianist Chopin, who she fails to meet. But she learns that he will be an an extended artists' party hosted by the rich but inartistic Duchess D'Antan (Emma Thompson,
Brideshead Revisited
), a patron of the arts who fancies herself as an artist. So she invites herself to this affair. Present, too, will be Mallefille, George's ex-lover Alfred (Mandy Patinkin,
The Princess Bride
), a jealous friend Marie (Bernadette Peters) and her lover Franz Liszt (Julian Sands).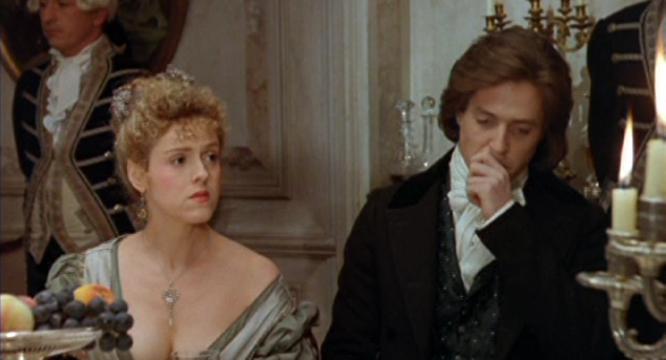 The party offers George an opportunity to meet Chopin, who plays wonderfully but whose personality does not match his pianistic majesty. In contrast, he is wimpy, afraid ("I'm frightened"), and chronically ill. Straitlaced, he finds George's behavior strange and uncomfortable. But she is not turned off. Rather, she is desperate for his affection and love.
Why is the film titled
Impromptu
? This is explained in a key scene late in the movie. When George visits Chopin in his studio, he is working on an impromptu, a free-form improvised musical composition. Contrary to the meaning, he is composing not improvising, "Because a perfect impromptu should seem spontaneous and free. No one should be able to guess at the desperate calculation behind it." Just as Chopin is laboring over free-form music, George is laboring over winning his free-form love.
The film gives a picture of decadent living in the pre-French Revolution era. Scandal and gossip hover over the beautiful, almost impressionistic, locations and the pretty costume pieces. Duels between George's lovers become a way of seguing from one act to the next. But the acting is so-so. Hugh Grant practices for his signature wimpy Englishman, this time with an ill-delivered Polish accent (which is strange since everyone else except Liszt maintains a British accent). Patinkin and Peters come across the most comedic as the two foils.

One of the delights of the film is its score. WIth beautiful music by Chopin (and Liszt), it underscores the romantic mood he composer conjures from his instrument. It entrances you into going out and building a Chopin playlist on your iTunes . . . at least it did for me.
There is not much to this movie, amusing though it may be. But one line from George that characterizes her life resonates with biblical themes. She cries out, "I am not full of virtues and noble qualities. I love. That is all. But I love strongly, exclusively and steadfastly." She lives a lifestyle of love, openly even scandalously.
This statement exemplifies how God sees us and what he wants from us.
The first half is how we are. We are not full of virtue. Rather, we are full of sin. Paul details this in Rom 3, beginning with, "There is no one righteous, not even one" (Rom. 3:11), describing how sin has affected each of our bodily members (Rom. 3:12-17), and concluding with "for all have sinned and fall short of the glory of God" (Rom.3:23). Any noble qualities we had at creation have been marred by the fall.
Yet, God's intervention into our messy, gossipy, melodramatic lives in the person of Jesus has opened up the way for us to be transformed. And now he wants us to love. Jesus told us the greatest commandment: " 'Love the Lord your God with all your heart and with all your soul and with all your mind.' This is the first and greatest commandment. And the second is like it: 'Love your neighbor as yourself.' " (Matt. 22:37-39) He wants us to love strongly, him and others. But this love is exclusive: "You shall have no other gods before me" (Ex. 20:3). Like George, our love for God must also be steadfast: "My heart, O God, is steadfast" (Psa. 57:7).
Who would have thought that George Sand, in this mediocre movie, could mimic (mostly) the message of the prophet Micah: "And what does the Lord require of you? To act justly and to love mercy and to walk humbly with your God" (Mic. 6:8)? Love is indeed the key.
Copyright ©2013, Martin Baggs