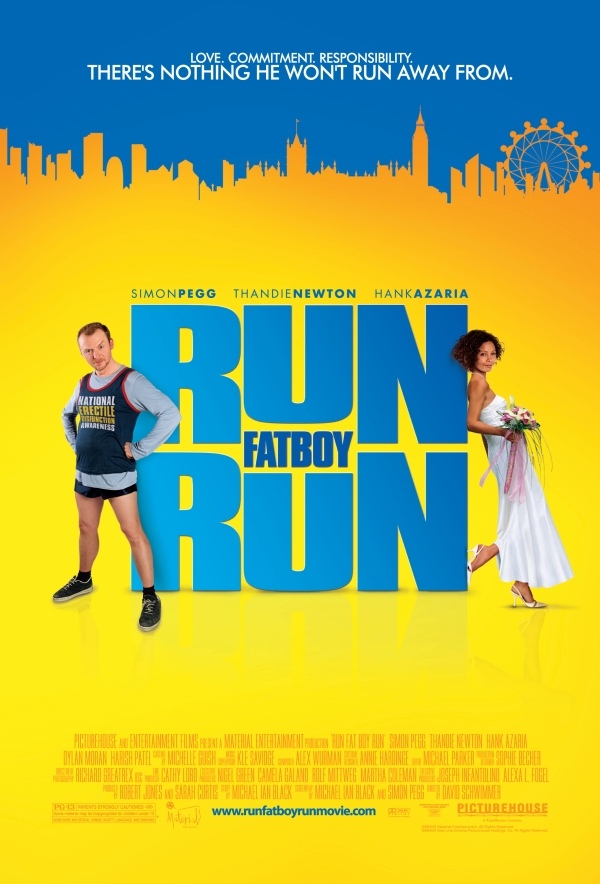 Simon Pegg, so good in Shaun of the Dead and absolutely hilarious in Hot Fuzz (which has to be one of the funniest, if goriest, comedies of the last decade), is only mildly comedic as Dennis Doyle, a fatboy failure, in Run Fatboy Run. After seeing the trailer, David Schwimmer's directorial debut movie is somewhat disappointing.
In the opening scene we see Dennis at his own wedding, a man in fear, almost a man facing his own death. As Gordon (Dylan Moran), his best man, tries to coax him out of his room to go across the street to the church, Dennis lies on the bedroom floor, banging his head and gazing blindly into a future of commitment and responsibility. Shaken to his core, he runs from this responsibility leaving his pregnant fiancee Libby (Thandie Newton) standing in the street forlornly watching, aghast.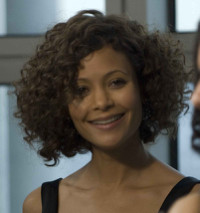 Five years later, Dennis is still a loser, renting a basement flat and working as a security guard in a small lingerie store. He still loves Libby but can't get the courage to do anything about it. He settles for seeing her when he sees his son, Jake. But when he discovers Libby has a boyfriend, Whit (Hank Azaria), his jealousy is inflamed. What is worse, Whit is a successful hedge fund manager (i.e., well off financially), an American who runs marathons for fun and for charity!
Not knowing what to do, Dennis seeks advice from his best friend Gordon. But what a relationship role model: "The only serious relationship I've been in ended in a broken collarbone and a dead meerkat." That scene is left to our imagination! Clearly, relationships are not us, or rather them. This is something missing from the lives of the main characters.
On a whim, to win back his woman, Dennis decides to compete against Whit in the upcoming Nike River Run marathon. But Whit is a perpetual quitter, never finishing anything. As Libby says, "You can't even finish your sentence," to which Dennis replies, "Oh . . don't . . . don't . . . don't be . . . what's the word?"
But where the first act sets the scene with amusing scenes and dialog, the second act falls flat, apart from a few laugh-out-loud gross-out jokes (think bursting a blister). Whit is shown as a disciplined and dedicated man, a perfect foil to
Dennis' undisciplined approach to life. (He always leaves his house keys in the house.) The interactions between the two focus on the relationships with Libby and Jake, and set up the final act.
By the third act, which is the race itself, the film has become predictable and boring. Whit's discipline is shown to be a form of control, and in fact this charity-oriented saint is a self-centered controlling cheat.

Fatboy raises the issues of responsibility, commitment, and respect. At one point in the movie, Dennis despairs of winning Libby back and in conversation with her, tells her he just wants her respect. This is consistent with biblical relational imperatives. God made woman for man, and in the context of marriage, Paul says to men: "each one of you also must love his wife as he loves himself, and the wife must respect her husband" (Eph. 5:33). Men desire and strive for the respect of their women.
In regards to marriage, success is predicated on trust and commitment. Marriage is a relationship that carries with it certain responsibilities for both husband and wife. If a man does not commit to his wife, even with the prospect of an uncertain future, the future is certain -- failure. Even if he thinks he is not good enough, if she has chosen him in love, and if he loves her too, their active commitment to one another will sustain them through the tough times ahead. Like life, marriage is a ship that will sail on calm seas as well as stormy seas -- that is a given. How we approach it makes all the difference in the world.

Copyright 2008, Martin Baggs