Director: Jon Favreau, 2003.
Some movies are deep or convoluted requiring repeat viewings to gain better understanding of what happened.
Memento
and
Unremembered
would fit this category. Others are simply pulp films, without depth.
Elf
is one of those. Superficial, yes. Sentimental, absolutely. Side-splittingly funny, in places certainly. It bears repeat viewing, but for its comedy not its chasmic proportions.
Before
Iron Man
, Favreau cut his directorial teeth on this Christmas film. Will Ferrell, in his cleanest and perhaps funniest role, stars as Buddy a human raised by elves. As a baby, he somehow escapes from his crib in the orphanage and stows away in Santa's sack one Christmas Eve. When he is finally discovered by old Saint Nick, after his once-per-year special workday is done, there is nothing to do but keep him at the north pole. Papa Elf (Bob Newhart), with no kids of his own, "adopts" Buddy.
The opening scenes depict Buddy as a fish-out-of-water, being a giant "elf" trying to fit into an elf's world. Clothes, furniture, even houses are difficult for him. Hardest of all is his job making etch-a-sketch toys. He simply cannot cut the pace of a true toy-making elf. He does not fit in. When he overhears one elf telling another that he is actually a human, it crushes him. "Why the long face, Buddy?" says Leon the Snowman. "It seems I'm not an elf," replies the sad Buddy. "Of course you're not an elf. You're six-foot-three and had a beard since you were fifteen." Buddy was the only one who didn't know he was no elf.
With the truth now no secret, Santa tells him who his father is: Walter Hobbs (James Caan), a heartless children's book publisher living in New York City. Worse yet, Walter is on Santa's naughty list. So, Buddy takes off on a grand adventure to find and bond with his true father.
Of course, if Buddy is a stand-out outcast at the north pole, he is just as much out of his element in the real world. Still dressed in elf clothes, Walter thinks he is a Christmas-gram. Others mistake him for a seasonal worker, one of Santa's elves working in Gimbals, the huge toy store. It is there that he meets Jovie (Zooey Deschanel), another "elf" and discovers that warmth in his face might be love in his heart.
As Buddy navigates the minefields of New York, his naive innocence and elf-like cultural habits create opportunities for comedy. He pours syrup on spaghetti for his new stepmom (Mary Steenburgen). He offers hugs to complete strangers. He gets drunk with an ex-con and descends into a frenetic tickle fight. He eats cotton balls like cotton candy in a doctor's office (cameo from Favreau as Walter's doctor). He tells the truth. To a dwarf (Peter Dinklage,
The Station Agent
) he speaks from his heart: "You're an angry elf" despite the threat of consequences. And he declares in outrage that the Gimbal Santa is a fraud, sitting on a throne of lies.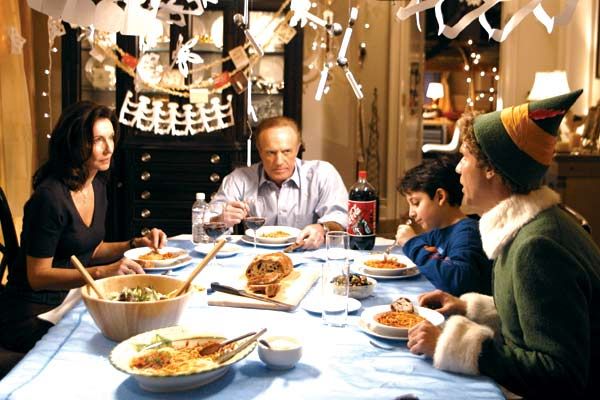 His naivete presents a lesson for all of us. He accepts everyone. In his childlike (elf-like?) innocence, he simply cannot compute cynicism, sarcasm or even criminality. He is warm-hearted and kind to both family and strangers, those he knows and those he does not. In doing so, he enables Walter to see what is most important to him, and find his own heart.
Jesus tells us to be kind to those around us (Eph. 4:32). Kindness is a fruit of the spirit (Gal. 5:22), after love. We should love, even the unlovely, especially our enemies (Matt. 5:44). We can put aside our distrust in humanity, and embrace the spirit of Christmas, of wonder and allow the Spirit of God to warm our hearts and imbue us with his grace and love. We can learn to believe in others, even when the rest of the world is pessimistic about them.
Indeed, belief is another theme of
Elf,
just like another Christmas movie,
The Polar Express
. When Santa is en route for his deliveries, his clause-o-meter drops to zero. The cause: the world has stopped believing in him, effectively grounding his sleigh. What he needs is a resurgence of human belief.
What the world needs is belief. The difference is the object of that belief. We all know that Santa Claus is not real. At some point, in our childhood, we discover that our parents were the ones who left the gifts at the end of the bed or beside the tree. But true belief, life-changing belief, must be focused on Jesus. He is the real reason for the Christmas season. Advent is all about his coming as a person in that stable 2000 years ago (Lk. 2:4-7). In the prophetic words of Isaiah: "The virgin will be with child and will give birth to a son, and will call him Immanuel" (Isa. 7:4), which means God with us (Matt. 1:23). God is still with us. Jesus came with a mission: to live and die as a man for the sins of humanity (1 Pet. 3;18). We can experience life, forgiveness, freedom, by simply believing in his finished work.
Wouldn't the world be a little bit better place if we took these lessons from Buddy seriously?
Copyright ©2009, Martin Baggs