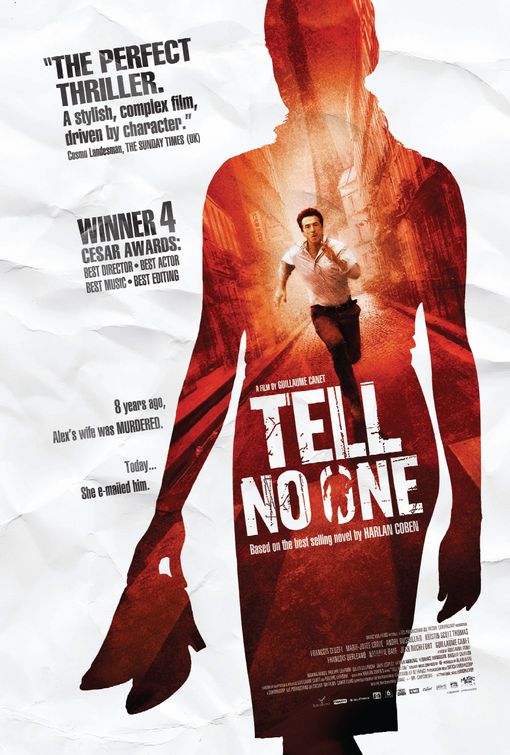 Director: Guillaume Canet, 2006.
Tell No One
is a terrific French thriller, adapted by Canet from an American novel by Harlan Coban. Unlike American thrillers, the action is not pervasive. There is an exciting foot chase, but most of the thrills come from psychological suspense. So, as with most French films, even their thrillers are slower allowing for character development.
Tell No One
adds a plot that is intricate enough to keep us guessing even to the climax.
The film opens with the back story of Alexandre Beck (François Cluzet), a pediatrician. As we meet him, he is with his family at a farmhouse. There is laughter but there is also tension. Canet does not spoon feed us by explaining up front who the various characters are. He leaves it to the film to show these relationships.
When Beck goes for a midnight swim in the private family lake with his wife Margot (Marie-Josée Croze,
The Diving Bell and the Butterfly
,
Wolves in the Snow
) their skinny dip begins with frollicking fun. But when Margot swims across the lake and then disappears into the forest, Beck's
night turns dark. She is murdered and he is left unconscious by the attacker. Although initially a suspect, a serial killer is charged with the crime.
Eight years later we find Beck still working at the hospital but his grief is an albatross around his neck. He loses himself in alcohol. Drink is his solace, isolation his escape. His love for Margot was so great that he cannot move on.
This brings to mind the theme of grief portrayed in another French film,
Blue
. Part of Kieslowski's important tri-color trilogy (
Blue
,
White
,
Red
), the first film shows Julie (Juliette Binoche) trying to deal with life after the death of her composer husband and young child. She chooses to withdraw from society, hiding alone in a new apartment in a different part of Paris. Solitude without alcohol for Julie, work and drink for Alexandre. Both cannot sustain new relationships. Both have to work through their grief in their own fashions.
The New Testament tells us that we will all die (Heb. 9:27). Death is a part of life. But for Christians, we can have hope that we will go to be with the Lord. Because of this fact, Paul said we should grieve differently than those apart from Christ (1 Thess 4:13). We can be confident that we will see these loved ones and friends again, in the life hereafter. Of course, there will still be tears and pain and change now. But God's grace will carry us through and enable us at some point to move on with life. Those without this hope, like Julie and Alexandre, are stuck in an endless cycle of grief.
Grief aside, Beck's life is changed when two more bodies are discovered in the same woods where Margot's body was found eight years earlier. Once again, the police look at him as a suspect. Then when a mysterious email arrives in his inbox pointing to a website showing a live webcam, he sees what appears to be his dead wife, alive and well. The message comes with the warning, "Tell no one!"
In life there are times when a friend or colleague confides in us some secret or intrigue and then tells us to keep this confidential. We are really told, "tell no one!" How do we respond? Do we honor this confidence and keep it to ourselves? Or do we "share" this with another, whether a spouse, a friend or a prayer partner. Often this is gossip by another name, and gossip is a sin warned against in multiple places in Scripture (Prov. 11:13, Rom. 1:29, 2 Cor. 12:20). A secret shared is a secret revealed. How good are you at keeping a secret?
With a faceless enemy following him apparently aware of his every move, Beck is left wondering who to turn to. He does tell someone: Helene Perkins (Kristin Scott Thomas,
The English Patient
,
I've Loved You So Long
), his sister's lesbian lover. She is his only real friend. And she is a help to a degree. But when the enemy frames him for murder, he becomes a wanted man on the run without money or friends.
When we are in trouble, we need a friend, someone we can turn to. Beck found his friends less helpful but a minor acquaintance proved to be his savior. But even when friends are hard to find, Jesus is always there, ready to offer grace and help in time of need (Heb. 4:16). He is our savior if we simply call on him.
Copyright 2009, Martin Baggs