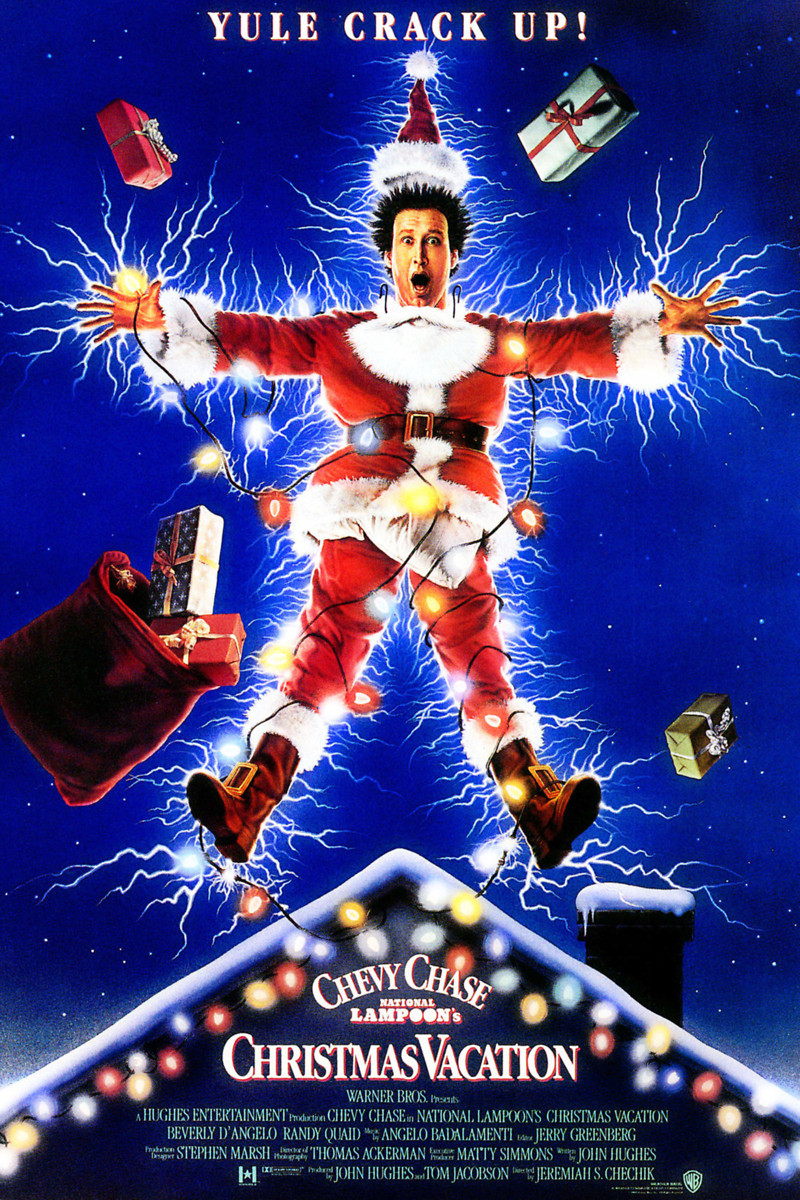 Director: Jeremiah S. Chechik, 1989. (R)
Christmas is such a great time of year: family, friends, feasts, fun. We look forward all year to this season. But do we set our standards too high? And do we set our sights on the wrong prize? Clark Griswold did in this movie.
There are two types of Christmas movie: the sentimental, heart-warming films we watch and shed tears over, such as
White Christmas
. Probably the best of these is
It's A Wonderful Life
, perhaps the all-time best holiday movie. And then there are the comedies that rip on the holidays in one way or another. These include
Home Alone
,
Bad Santa
, and
A Christmas Tale
.
Christmas Vacation
belongs to the latter category, and certainly delivers on the laughs, even though they are often crass and crude.
We know the Griswolds, Clark (Chevy Chase) and Ellen (Beverly D'Angelo) together with their kids Audrey (Juliette Lewis) and Rusty (Johnny Galecki), from the earlier
Vacation
. Clark works as a food additives expert in Chicago and always has great plans for his family vacations. This one is no exception. He wants to make this Christmas special, and he invites both sets of grandparents as well as various other relatives to spend their Christmas in his house. But he sets the bar too high, as Ellen tells him: "You set standards that no family activity can live up to." Clark questions, "When have I ever done that?" She ponders and replies, "Parties, weddings, anniversaries, funerals, holidays...vacations, graduations." You get the point.
Do we ever do this? Do we set unrealistic expectations? Some of us do. And when we do, we are setting ourselves and our families up for failure. We are dooming ourselves to disappointment. When we live in such a dreamland as Clark inhabits we crush our hopes and leave a trail of broken psyches in our wake. It is not worth it. We should choose to accept reality. We must lower the bar and allow for imperfection.
The movie gets right into the thick of things from the get-go, with the Griswolds driving far to find the perfect tree. This trip includes a
Duel-
like confrontation with a redneck truck driver and ends with a twenty-foot tree.
Along the way, Clark tries to hang enough lights to bring down the Chicago grid, sticks to things with sap-soaked fingers, gets surprised by his country-bumpkin cousin Eddie (Randy Quaid) and their appalling RV, and has to deal with cats, squirrels and nosy neighbors. Certainly it's over-the-top, but it's funny with tons of throw-away one-liners mostly from Clark like this one to Eddie, who has already over-stayed his welcome: "Can I refill your eggnog for you? Get you something to eat? Drive you out to the middle of nowhere and leave you for dead?"
A prevailing theme throughout is the focus of hope that Christmas brings. In Clark's case, he has put down a deposit on a swimming pool for the family and needs the expected bonus from his boss (there are expectations again!). Without this Christmas cash, he is in deep trouble.
For followers of Jesus Christ, Christmas brings hope. We look not to the expected present that sits neatly wrapped under the tree. We do not even look to the end-of-year bonus that will allow us to buy something special. Those are consumeristic trappings of western culture. No, we look to the hope of peace, the promise of joy, and the gift of life that the birth of Christ brings to the world (Lk. 2:14). Even with little or no materialistic presents, Jesus offers the spiritual gift of his presence (Jn. 14:18).
Certainly Christmas connotes family and friends, love and laughter. And hopefully, we all get to enjoy these. But its true meaning is centered on the Christ-child, the one born in the manger, wrapped in swaddling cloths (Lk. 2:7), whose descent to earth (Phil. 2:5-9) allows our ascent to heaven (Phil. 3:20)!
Copyright©2012, Martin Baggs